Tell me if this situation sounds familiar. You cruise up to one of your favorite outdoor smoke spots (because what's better than sparking up while taking in an amazing view, amiright?) and you find the area is littered with empty beer cans, blunt wrappers, food containers and, if you're really lucky, a used condom or two… talk about a buzzkill.
That unpleasant scenario may be a thing of the past – or at least a less frequent occurrence – thanks to a growing internet movement aptly named the #StonerCleanupInitiative, which, as the name suggests, encourages people to pick up trash at their favorite smoke spots.
The idea was spawned on Reddit by u/RedArms219 and quickly spread as heads from across the internets joined in and started posting photos of their cleanup projects. It's gained so much traction that nearly all of the recent "most popular posts" on r/tress (the cannabis subreddit) are about the #StonerCleanupInitiative and the hashtag has spread to other communities, including Instagram.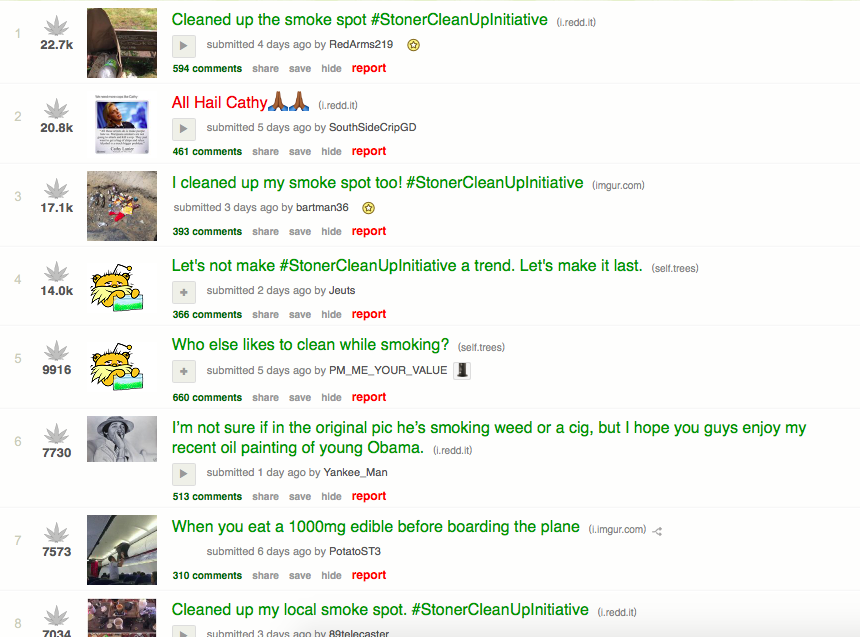 The movement is a great way to help clean up the environment and also clean up negative stereotypes surrounding stoner culture. Imagine if everyone just associated stoners as people who leave a place in better condition than how they found it. Maybe one day, but in the meantime I'll be doing my part by keeping my favorite smoke spots tidy for all to enjoy.