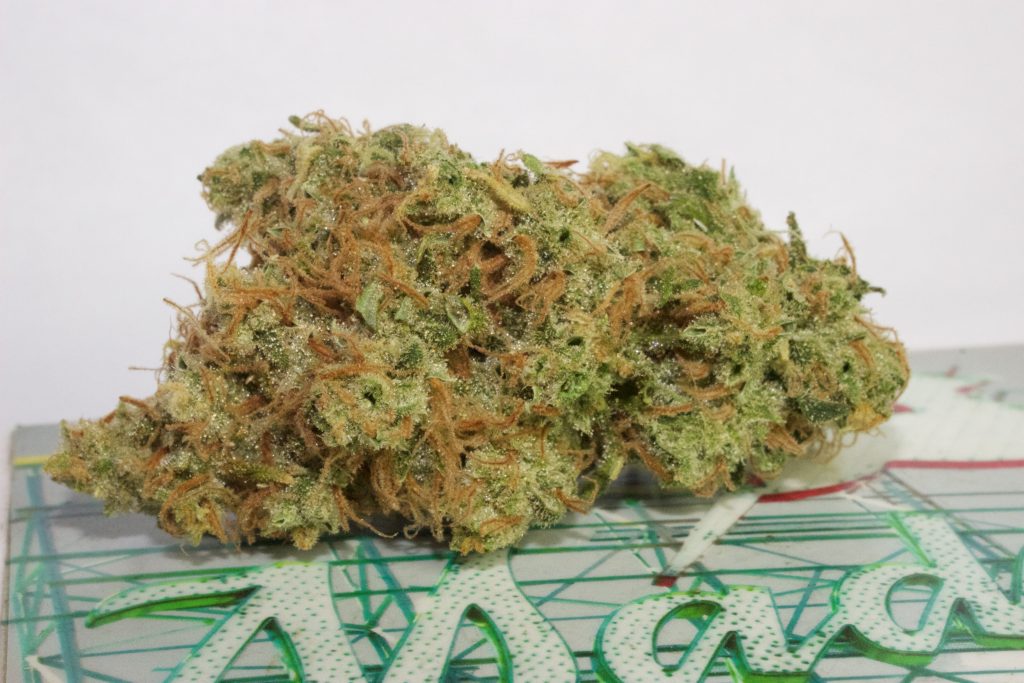 Strain: Super Silver Haze
Genetics: (Skunk #1 x Haze C) x (Northern Lights #5 x Haze C)
Type: Sativa
Dispensary: Collective Awakenings – Portland, Oregon
BAG APPEAL (4 out of 5)
This Super Silver Haze from Collective Awakenings is truly a sight to behold – especially if you're a sativa lover. The bright-green, well-manicured nugs exhibit true Haze bud structure – while remaining nice and dense – and have exceptional trichome coverage from tip to tip. Under a microscope the fat trichomes are a nice mix of mostly cloudy and clear with a few starting to turn amber. The sparkling green nugs are made more beautiful thanks to a dense coating of thick pistils ranging in color from deep orange to pale peach.
SMELL (4.5 out of 5)
Pulling out a Super Silver Haze nug quickly fills the air with strong, pungent aromas of sour citrus and funk. When breaking down the herb for a joint the sourness intensifies, almost stinging my nose with the delicious citrusy smell. I also picked up slight undertones of pine when breaking up the herb. All around very strong and delicious scent.
TASTE (4 out of 5)
This is one of my favorite Haze flavors. A complex mix of sweet citrus, sour funk and spicy, earthy undertones linger on the mouth after exhaling a hit. The smoke is very smooth on inhale and exhale, burning down to a grey/white ash.
OVERALL (4.5 out of 5)
Haze strains are some of my favorite around, and this Super Silver Haze from Collective Awakenings just added to that obsession. From the incredible citrus funk to the powerful high, this herb is a wonderful all-around experience.